Selected Press Quotes and Reviews
This is true folk music of the Klezmer kind, paying tribute to the deep roots of the music from Eastern Europe and beyond. Fun and frolic, but also pathos and yearning abound. This is emotionally charged music, played with abandon by musicians who are clearly comfortable with each other. -Elizabeth Watson, Greater Boston Flute Association


---
"...an important piece of Yiddish culture that should be sustained and nurtured. Everyone should welcome The Casco Bay Tummlers into their home." -Charles Epstein, The Jewish Post & Opinion


---
"The Casco Bay Tummlers performed at our Yiddishkeyt MameLoshn Weekend in New York on June 11, 1998. They were outstanding! It was a wonderful evening thanks to the very talented Tummlers... I highly recommend them." -Dr. Alice Falkenstein, Kessel Jewish Cultural Institute


---
Festival Concert review from newspaper Il Gazzetino, Italy
"The success of the first festival concert is attributed to the musicians who reminded a full and attentive audience that words wrung from instruments have no boundries, as opposed to words from a dictionary. The words of the Casco Bay Tummlers (Julie Goell, Carl Dimow, Hayes Porterfield, Nancy 3. Hoffman, and Steve Gruverman), an ensemble of Americans from Maine who play Eastern European klezmer mixed with Dixieland, seem to be written on sheaves of paper borne on the wind, caressed by a guitar. Joined by rhythms of bass and drums, the words assume the drive of a train in motion, which, between the flight of a sparrow and the sound of bells ringing in the night, stopped abruptly in some station of a voyage without end." -Nicola Astolfi (translated from Italian)

---
Review of Concert in Pakruojis, Lithuania
Review of Concert in Bar Harbor, Maine
CD Reviews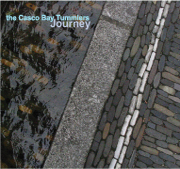 Journey 2005
Dear Julie! Shalom!
Thank You so much for fantastic brilliant Journey!!! You really can't imagine what is honor and proud for us, for our radio station, touch Casco Bay Tummlers again, touch new - perfectly splendid - work of highest culture and mastery!!! I think we are unique here! It is really exclusive, invaluable opportunity for us and for our klezmer audience! Thank You, Dear Julie, for happiness of dealings with Klezmer! Your friends from Siberia,
Serge Tikhanoff
Radio Penguin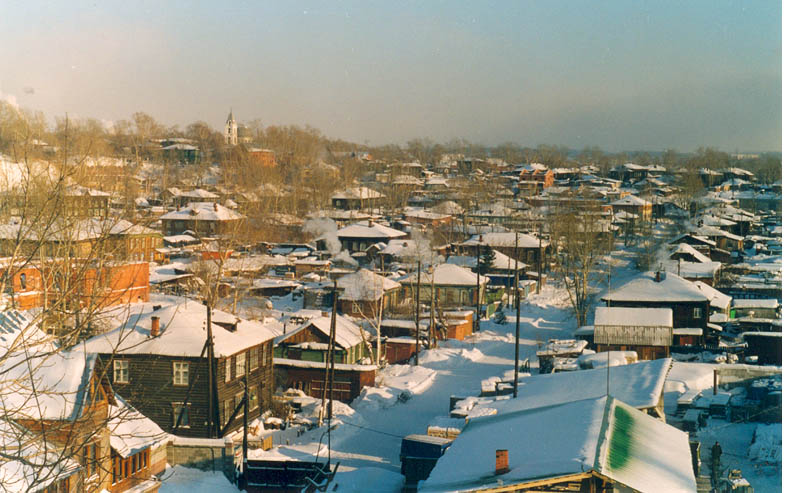 "-27C. Frost and sun. Fine Day"

---
The Gazette - March 2006
Greater Boston Flute Association

CD's You Should Know About
Reviewed by Elizabeth Watson

This is true folk music of the Klezmer kind, paying tribute to the deep roots of the music from Eastern Europe and beyond. Fun and frolic, but also pathos and yearning abound. This is emotionally charged music, played with abandon by musicians who are clearly comfortable with each other. Several of the tracks contain songs sung in Yiddish. There are quite a variety of tunes and arrangements, from traditional and early 20th century tunes to new compositions; from flute solos to full ensemble. Because I am partial to melancholy music, I particularly loved "Araber Tanz" (Arabian Dance) and "Karagouna." Several of the tracks are two or three tunes in a set. The reworking of two classic tunes written for clarinet by Dave Tarras into flute solos is just brilliant. Some of these tunes you will want to get up and dance to - at least I did! Special thanks to Carl Dimow for "March for the New Century": it isn't a happy thing, but it had to be said. "Walking Tune", another one by Carl, is a contemplative, odd-meter tune featuring the bass flute. Joy, sadness, foreboding, love, loss: it's all here - give a listen.
---
"I didn't know jack about klezmer music until about four days ago. What better introduction to it than via the local band, Casco Bay Tummlers.
They just released their third CD, "Journey," and from the opening notes of "Araber Tanz" through the final ones of "Walking Tune," it is an enchanting journey into the world of traditional Jewish folk music that will conjure up old-world images while also taking you by the hand out onto the dance floor.
I love the fast pace of "Binyumele's Bar Mitzvah," with female vocals and flute against the backdrop of percussion and accordion." -Aimsel L. Ponti, Portland Press Herald
---
"The Tummlers newest album, Journey, epitomizes neo-klezmer. The music exudes the sound of celebration. Soulful bursts of intense sound..... transport listeners through a range of emotions and experience." -Jewish Voice
---
"Journey is undeniably klezmer; however the Tummlers experiment with the tradition using Greek, Celtic, American jazz and even Latin influences to create an entirely original collection of songs. The Tummlers are able to express what it means to be Jewish musicians in the twenty-first century through an articulate fusion of contemporary sound with traditional roots." -Jewish Voice
---
"Your new CD, Journey, arrived yesterday. As soon as I started to listen to it, I knew that this was something special. Your music is EXCEPTIONAL!! The selections ... the artistry ... the arrangements ... the technical quality are all first class. You can be sure that the listeners to my daily klezmer program on WNWR and www.wnwr.com in Philadelphia will be hearing a lot of The Casco Bay Tummlers." - Barry Reisman, WNWR Philadelphia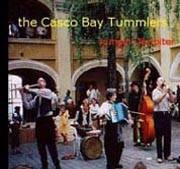 Jumpin' Jewpiter! 2000
"Varied album showcasing the talents of all its members...includes a xyolphone doyne by Hayes Porterfield, a sensual, jazz-influenced flute doyne, several vocals by bassist Julie Goell, and, of course the clarinets of Danny Mills, whose sound ranges from Greek to Statman!"-YiddishMusic.com
---
"Whenever I think that I have heard one traditional klezmer album too many, and that I don't want to hear anything that isn't radically punk or edgy or elsewhere, someone comes along and does a nice, charming, traditional, heimish album worth listening to. In this case, Maine's Casco Bay Tummlers, fresh back from a tour of Europe, have released a witty, well-played second album of traditional and traditional-inspired Jewish music, "Jumpin' Jewpiter!"Along with traditional instrumentals such as "Freylach Yiddelach" (here played not-so-traditionally on xylophone and reminding some of us of the great San Francisco Marimba Klezmer Band of concerts past, or of the Kleveland Klezmorim), there is delightful verbal byplay in "Mechuteneste Mayne" (My Dear Inlaw) in which a future mother-in-law is warned to treat her new daughter-in-law as her own, and a delightful rendition of Kurt Weill's "Surabaya Johnny". There's a lot here to enjoy, so I'll try to keep it near the CD changer until I've had a reasonable amount of listens." -Ari Davidow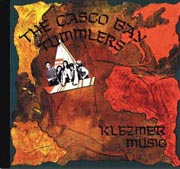 Klezmer Music 1997
"I just received your CD, I am up to track 8, and I was sufficiently overwhelmed to email you immediately!! ... This is absolutely one of the most beautiful I have heard. It is so sensitively played, with so much feeling. [Often Klezmer albums sound to me like a group of jazz musicians all metho dically doing what is prescribed, and amazingly (for a style inherently moving), losing any sense of warmth]... please convey to members of the band how moved a certain radio-DJ in Sydney, Australia is!-Yaron Hallis, "The Hot Club," Eastside Radio, 89.7 F.M.


---
...there is a new CD out by The Casco Bay Tummlers. It is absolutely fantastic. With music from the rollicking freylachs to a haunting song from the Holocaust, this is the best I have heard... this is an important piece of Yiddish culture that should be sustained and nurtured. Everyone should welcome The Casco Bay Tummlers into their home. -Charles Epstein, The Jewish Post & Opinion, Indianapolis
---
Click here for a review and sound clips of this CD from Ari's Klezmershack.