On the Road in Lithuania 2000
by Julie Goell, Nancy 3. Hoffman and Carl Dimow. Edited by Carl Dimow.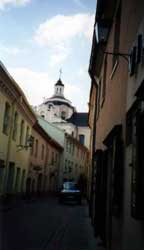 After a year and a half of planning, organizing and fundraising, the Casco Bay Tummlers klezmer band traveled to Lithuania this past spring for a two-week goodwill tour. We had planned performances for the Jewish communities in the major urban centers of Vilnius and Kaunas. We also arranged to do a school residency in a small town, as well as four days of performance at a national folk festival. The band members; Carl Dimow, Julie Goell, Nancy 3. Hoffman, Dan Mills and Hayes Porterfield, were all prepared with maps, language guides and contacts.
We left filled with excitement, but also some trepidation. We would be the first klezmer band to tour Lithuania. How would we be received? During the Holocaust, 95% of Lithuania's Jewish population was exterminated. Would there still be anti-semitism? How would people react to hearing a Jewish band? We also knew that Lithuania, freshly independent from 45 years of Soviet occupation, had seen difficult times. What would it be like?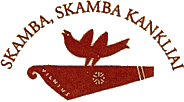 We needn't have worried. We were guests of Skamba Skamba Kankliai, a national folk festival, for our first five days in Lithuania. We were met at the Vilnius airport by our guide, Emilija. She was typical of the people we met - kind, enthusiastic and very generous. We found our rooms in the rather spartan Soviet era showpiece hotel, the Leituva, then were whisked away to see our first concert.
Vilnius is an exquisite city and was declared a world monument city by UNESCO. It's full of winding streets laid out in medieval times and buildings from the 15th, 16th and 17th centuries. Many of the festival concerts were held in these ancient buildings and courtyards. The first concert we saw was a chill-inducing event, held in the remains of the Lower Castle - a cavernous set of ruins with stairs into open cellars, arched masonry and stonework visible by torchlight. The music performed was ancient Sutartines - polyphonic chants with similar instrumental canons. The Lithuanian people love to sing together, so many of the performances involved groups doing folk songs that the whole audience knew, many with over 20 verses! There was also a lot of dancing - we were all up doing polkas and waltzes. We learned that traditional folk music was one way that people held onto a sense of national identity during Soviet occupation.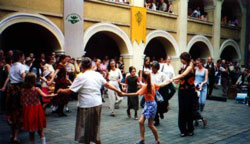 We played ten concerts at Skamba Skamba Kankliai and heard many concerts by other groups as well. Any concerns we had about not being well received were dispelled with our first concert - about 1000 people packed into a courtyard of the University of Vilnius clapping, cheering and chanting "one more song" in English.
The stark contrast to all this merrymaking was touring the Jewish sites around Vilnius. We were fortunate to have the curator of the Jewish Museum, Rosa Bieliauskiene, as our guide. Rosa has a warm and welcoming personality and she's a walking textbook of Jewish history in Lithuania. Her parents were both survivors of the war and she has a compassionate and personal perspective on places such as the Jewish cemetery, the ghetto streets and places where marches and mass murders occurred. We saw the neighborhood where the famous Jewish scholar, the Gaon of Vilnius, had studied and taught. We saw the site of one of the ghetto theaters that kept people's spirits and hopes alive.
Seeing Jewish Vilnius was like seeing a ghost city in the midst of a bustling cosmopolitan center. Before the Holocaust, Vilnius was 40% Jewish. It was a thriving intellectual and cultural center of Judaism and was known as the Jerusalem of Lithuania. During the five years of Nazi occupation, Lithuania's Jewish population was reduced from 200,000 to 10,000. We were taken to the forest at Paneriai, where many of these murders occurred. We were left speechless, standing in this pastoral woods on a beautiful spring day, seeing the large pits, still gaping in the green earth, where 100,000 people were shot and buried.
That afternoon we performed at the Jewish museum for an audience of older Jews, many of whom were survivors. What a bittersweet and emotional moment for us! Many people knew the songs and it was a rare chance for Julie, our bass player, to do introductions in Yiddish. The concert was filmed for a national weekly television program about Jewish life. We were feted with a tasty supper and had a chance to meet some people in the community.
With the emotional intensity, the thrill of performance and the warmth of the people, we felt the trip was already a success. But there was much more to come. We rented a van and headed north on one of Lithuania's three main roads. Few people own cars and fewer still drive across the country, despite its small size. Occasionally we shared the road with a horse and wagon. The countryside is similar to northern Maine; long rolling country, open farm fields, a few hawks and huge patches of lupines. The giant stork nests on top of buildings, however, reminded us we weren't Downeast anymore!
Our destination was Linkuva, a small agricultural town in the north. Linkuva was the home of Julie's paternal grandparents. She traveled there with her father shortly after independence so he could see his parents' homeland before he died. Julie got to know the school principal and stayed in touch with him. He invited us to come to do workshops in the school and a performance in the town.
On the small road into Linkuva we passed two signs saying "Zydu Genocido," Lithuanian for Jewish genocide sites. Since independence, the government has marked 200 of these memorial sites around the country. These two sites were well maintained memorials with plaques in Lithuanian and Hebrew detailing what had happened and when. The deeds were credited to "Nazis and their local henchmen." Under the Soviets there had been no mention of Jewish victims, people killed by the Nazis were simply "victims of fascism." The Soviets were responsible for their own criminal acts. Even in a small town like Linkuva there was a
KGB headquarters in the center of town. During the years of Soviet rule, nearly a quarter of the population of Lithuania was deported to Siberia or imprisoned. The first principal of the Linkuva school was involved in the guerilla resistance and eventually killed. Despite the fact that the current economy is struggling and many people with resources are leaving the country, we found no one who spoke positively of the Soviet time.
We were housed in a dormitory for handicapped and deliquent children. There were no showers or hot water. Our time in L inkuva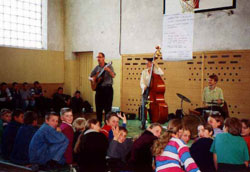 was low on amenities but high on hospitality. The next few days were spent in our school residency where we taught Jewish songs and dances. It was apparent that the students were clear about what had happened to the Jews of Linkuva. We helped them with their English and they asked us many questions about the US. They joined our singing and dancing at the concert in town.
We played a concert at the House of Culture in the neighboring town of Pakruojis. People were moved by knowing that Julie's ancestors were from the area. At the end of the concert a woman handed her a bunch of wildflowers saying, "Flowers from your native soil." The directors invited us to stay and drink Suktines, a strong Lithuanian mead alcohol. We sampled charcoutis, a large stalagtite of egg biscuit which is rolled and dripped into a cone shape. One of the directors taught us a dance while a local musician played the accordion. Back in Linkuva, we feasted, talked, and drank late into the night.
The next evening we performed at the House of Culture, a vintage cinema in the center of Linkuva. Our concert was packed. A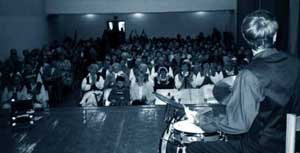 costumed "ethnographic" music and dance group opened for us. We were stunned by the director's eloquence and honesty as she welcomed us and spoke of the importance of sharing culture. Then it was our turn. Seeing children sing in Yiddish and do Jewish dances was not lost on their parents and grandparents. People went wild during Hayes' drum encore. We all sang together on Tum Balalaika, a song which all Lithuanians seem to know. The director brought us flowers and made a moving speech: "I was born after the war so I never got to meet any Jewish people. My parents always told me what kind and good people they are. Thank you for not forgetting us. We are so glad you came back."
After a day off at the beautiful Curonian Spit, we headed for Kaunas, Lithuania's second large city. Though we only spent two days there, they were full and rich with experiences. The city itself is stunningly beautiful. Founded in the 13th Century at the junction of two rivers, the old town stretches out from that point with a display of 16th to 18th Century architecture which is traversed by a two-mile long pedestrian walkway.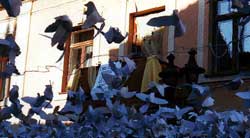 We arrived in Kaunas on Saturday morning with plans to head straight for our lodgings to get ready for our one scheduled event, a concert that afternoon sponsored by the Jewish Community Center. By a lucky mistake we missed a turn and found ourselves in front of the Kaunas Synagogue. We stopped, of course, and went in.
Built in 1871, the only surviving synagogue in Kaunas is an imposing, blue building with a solid presence. On the grounds outside is a memorial to 1800 children who were murdered at the Ninth Fort in Kaunas during the Holocaust. Inside, we met a number of colorful members of the congregation. It was always a surprise to see how familiar the members of the Jewish community looked and sounded. As a result of this chance visit, we planned a second concert at the Synagogue for Sunday afternoon.
Our concert for the Jewish Community Center was a delight. The audience loved hearing Yiddish songs. There were two beaming women in the front row who jumped up and danced. At the end of the concert we were introduced to a local musician, Chaim, a conservatory trained violinist who grew up hearing Jewish songs from his father. He teaches and performs classical music but also plays for Jewish events in Kaunas. He happily agreed to sit in with us the following day.
On Sunday morning we were given a tour of Jewish sites around Kaunas. The principal stop was at the Ninth Fort. Used as a prison and killing factory by the Nazis, it is now a museum of the Holocaust and the Soviet occupation. After a week and a half in Lithuania, the weight of history sometimes seemed overwhelming and it was hard to respond emotionally to the incomprehensible cruelty. It was most moving to hear our guide's own story. His father escaped to the Soviet Union as the Nazis invaded. His mother and her sister, just girls, were taken in and cared for by a non-Jewish family in a small town. He returns there every year to put flowers on the graves of that family and to make a contribution to their church. It was a moving relief to hear this simple story of kindness, compassion and bravery.
We arrived early at the synagogue to warm up and try a few songs with our new fiddler friend. After just a few bars we were all
making eye contact and smiling. Chaim can really play. He's got technique, an improvisational spirit and a wonderful Jewish soulfulness in his sound. During the concert, some of the younger people began line dancing through the aisles. An older man in front was singing along with all the Yiddish songs. Chaim was adding unexpected and inventive new ideas to our tunes. We looked from the people on the floor to the high ceiling of this old temple which had seen so much history. It was one of the many moments in Lithuania when the past and present were mixed together in profound and beautiful harmony.
Touring in Lithuania raised a complex mix of emotions for every one of us. The tragic history of the Holocaust was constantly on our minds. Nevertheless, we could only respond positively to the warm and enthusiastic reception we received in every part of the country. Both of these realities are true. Both stay with us as we continue to perform and share our music.