Weddings and Simchas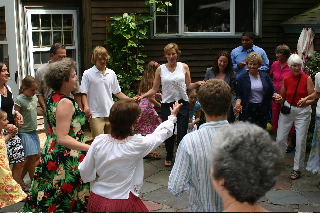 The Tummlers are excited to play for your reception, party or event. We are very flexible and enjoy playing dance music as well as background music. Our accordionist, Nancy 3., is a superb dance teacher, specializing in traditional Jewish dances that are fun and which involve people of all ages. Never put on a big event before? The Tummlers will help you make your event memorable.
Though we usually work as a quintet, depending on your space and budget, we can easily reduce the band to a quartet, trio or duo. (Though it's best to have at least a trio if you have dancing in mind).
With our varied musical backgrounds we can also provide classical music and/or jazz standards for a ceremony, cocktail hour or other part of your event.
Pricing is based on the number of musicians, the length of the event and travel time.
Please contact us by or phone us at (207) 688-2293 to discuss details and availability.
Keep reading below to see recommendations and thank yous from happy customers.

Recommendations and Thank You Letters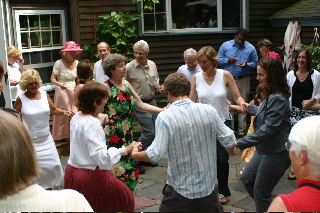 (In the interests of privacy we've left off the names of the letter writers. Just ask if you'd like to speak with someone who's had us play at their event).
Dear Tummlers-

Susan and I want to thank you for providing the extraordinary music at our wedding. We were exceptionally pleased, and virtually every one of our family and guests raved at the group's skill, friendliness, and capacity to create a unique mood for the entire occasion.
The processional music lent an air of grandeur to the ceremony. The Tummlers not only entertained us during the reception, but they were willing to teach us each circle and line dance, and they managed to get almost everyone up on their feet. The quality and diversity of the program, the instrumental skill and vocal talent of the players, and the personal involvement of each group member left us feeling fortunate to have chosen the Casco Bay Tummlers. Most important of all, they made our wedding fun!
The band was happy to meet with us before the wedding...and they worked hard to assure that everything would go smoothly on the big day. They delivered all that they promised - and more!
---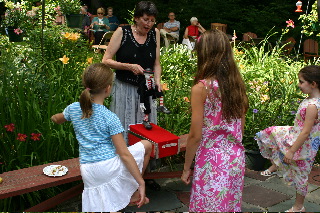 Dear Julie,

We want you and the rest of the Tummlers to know how pleased we were with the wonderful music at Abby and Josh' wedding. We loved the spirit and vitality you created. Our guests raved about how much fun they had and much of that can be attributed to you and the band. By teaching the dances, everyone felt included and part of the festivities.
All of you certainly helped create a wonderful memory for Abby and Josh and their families. Many thanks for your effort - we couldn't be happier with how everything went!
---
Dear Julie and the band,

I want to thank you for providing the music and entertainment for my son's Barmitzvah on Labor day last weekend. All the guests - including those from some of the music capitols of the world, who pride themselves on having very high musical standards - were quite enchanted by the quality and spirit of the music played by the Casco Bay Tummlers. So was I. Your band played a variety of music that was entertaining as well as interesting. We all found ourselves at different points hopping in the aisles, and quietly humming along with a tune that echoed form the recesses of memory.
And then there was the mischievous whiskey wedding song to the Barmitzvah boy, that allowed the evening to end on a very high note.
We also very much appreciated your flexibility in playing on the dock and on the island - a treat for guests as they arrived and when we were at the reception itself.
Your praises should be sung to the rafters - and to the stars! thank you for making our event into a wonderful evening.
---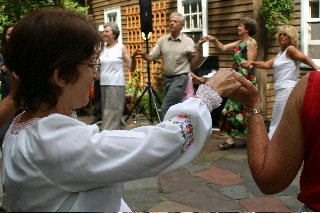 Dear Carl,

I just wanted to take this opportunity to thank you and the other members of the Casco Bay Tummlers for providing the musical entertainment at Ram Island Dance's recent fundraiser at the Fore Street Restaurant. The fundraiser proved to be a tremendous success, and the board greatly appreciates your contribution to it.
The comments we received about your group were universally and unanimously positive. Everyone agreed that you were the perfect musical accompaniment for the occasion.
---
Thank you, thank you, Nancy for a terrific performance at our son's Bar Mitzvah. You had excellent reviews from our friends and family, and it really was the perfect touch for the event. You folks weren't bad on "The Devil Went Down to Georgia" either!! A day to remember!
---
Dear Steve,

We had a wonderful time. The music was great. I was so happy when so many people got up and danced with us the Bulgarian dances. For some of these folks it was the first time hearing this type of music. Many people were from French Canadian heritage and they were many smiles while you were playing that tune.
Everything went well and we had a blast. Thank you for being part of our wedding and being so flexible and accommodating.
---
photo credits, this page: Deanne Herman